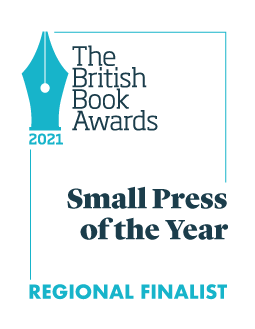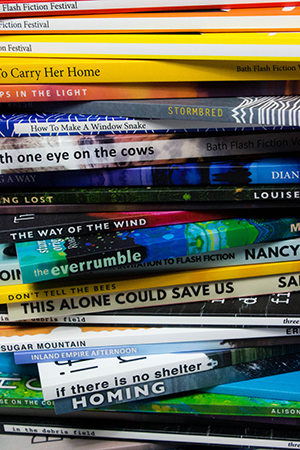 Ad Hoc Fiction is an award winning small independent publisher specialising in short-short fiction since 2015. This year, 2021, we are thrilled to have been chosen as a regional finalist for the Book Seller Small Press Awards.
We are closely associated with the Bath Flash Fiction Award and produce anthologies of micro fiction from their thrice-yearly Awards, novellas-in-flash from their yearly Novella-in-Flash Award and anthologies of stories from participants at Flash Fiction Festival UK.
We also publish individual collections of flash fiction by local and international authors. In addition to the collections of short-short fiction, we also produce the yearly Bath Short Story Award anthology, and have recently launched a new craft book series on all aspects of writing flash fiction.
Buying Our Books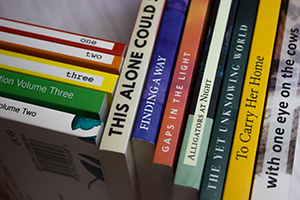 All our books are available for worldwide direct sale to the public from our online shop. Selected titles are also made available as ePub editions via Kindle, Kobo and Nook, plus print editions via Amazon. We further distribute to book sellers, libraries and educational bodies at standard trade terms.
Sponsorships
In association with Bath Flash Fiction Award, we sponsor Flash Fiction Festival UK and fund the production of their yearly festival anthology.
Other Projects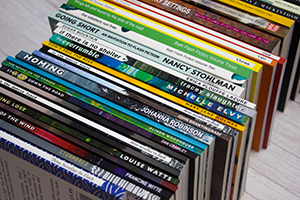 We have nominated authors for Best Small Fictions and Best Microfictions and the Biffy50 (the best flash fictions from writers in the UK and Ireland). Steven John's micro A Brief History of Time in Our House was included in Best Microfictions 2019. Henry Peplow's story, When Zeus Fell to Earth was a finalist for Best Small Fictions in 2018, and Linda Grierson-Irish's Or Hats, was included in the Biffy50 2019.
Collaborating twice with the magazine Project Calm, our authors have also been published in their high quality and widely-distributed print publications.
Awards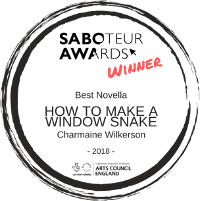 In 2020 Ad Hoc Fiction was shortlisted in the Most Innovative Publisher Category of the Saboteur Awards, and several Ad Hoc Fiction publications were shortlisted in other cateogories.
In 2019 Ad Hoc Fiction won the Best Publisher Award from the Creative Bath Awards.
In 2019 Finding A Way, the collection of flash fiction by Diane Simmons was short-listed in the Saboteur Awards
In 2019 The anthology Things Left and Found At The Side Of The Road was long listed in the Saboteur Awards, best anthology category.
In 2019, Both Homing the novella-in-flash by writer Johanna Robinson and the everrumble by Michelle Elvy were long-listed in the Guardian 'Not The Booker Prize'.
In 2018, How To Make A Window Snake the novella-in-flash by Charmaine Wilkerson won the novella category of the Saboteur Awards
In 2018 and 2017, Ad Hoc Fiction was long listed in the Wild Card Category of the Saboteur Awards for its weekly free micro contest.

Get in Touch
You can find us on Twitter @AdHocFiction, or you can drop us a line:

photography: ©2021 Libby Harris