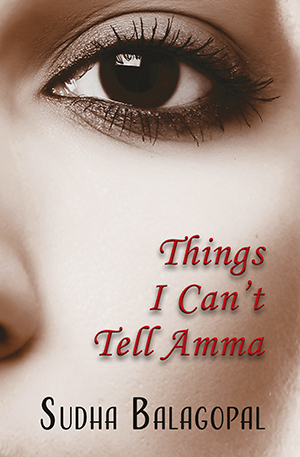 A highly addictive read! I picked up Things I Can't Tell Amma just for a taster first, and then I finished it in two reading bursts. It's a moving novella-in-flash about the compromises a young woman has to make in order to survive and fit in a new country — but also, how she never forgets what truly matters and where she comes from.
~ Sophie van Llewyn, author of Bottled Goods.
There are many things that 22-year-old Deepa can't tell her mother back in India now that she's studying in Arizona. There are things she can't tell the unfriendly librarian, or her shady professor, or her Indian would-be suitor, or the typist who sells her a typewriter, or prospective employers, but she'd like to tell her neighbor Theo how she feels about him. You'll fall in love with Deepa as her story unfolds in these fifteen finely wrought flash. Warm, funny, and endearing, Sudha Balagopal's Things I Can't Tell Amma is a brilliant novella-in-flash, by a writer at the top of her form.
~ Jacqueline Doyle, author of The Missing Girl.
Told from the perspective of Deepa, a young woman who arrives as a stranger in a new country, Things I Can't Tell Amma is an inventive novella-in-flash that explores how one navigates strange cultural norms and a yearning to belong. Even as this narrator tries to move on from her mother's expectations, she finds her new life bewildering, adventurous, and full of heartbreak and love. Balagopal is a virtuoso of expressing the minutiae of things. A trapped quail finds its nest, the missing letter of a typewriter, the notes of a jingle from the 1980s, a limp doll hangs from a rearview mirror. This sensational novella is a gift you will want to unwrap again and again.
~ Dan Crawley, author of Straight Down the Road and The Wind, It Swirls
In this affecting novella in flash, a young woman leaves India to study in America. Balagopal expertly captures the tug between yearning for the familiar and wanting to find one's place in a new world. In one flash, "The Missing I" Deepa buys a used typewriter for her term papers, only to find a broken key. When she complains, the vendor says: "Just write the damned 'I' in." A clever metaphor for Deepa's journey. The ambiguous ending left me hoping Deepa finds a way to "build a bridge across oceans."
~ Damhnait Monaghan, author of The Neverlands, best novella 2020 Saboteur Awards.
Paperback ISBN 978-1-912095-35-3; 133mm x 203mm; 68pp
£9.99 GBP