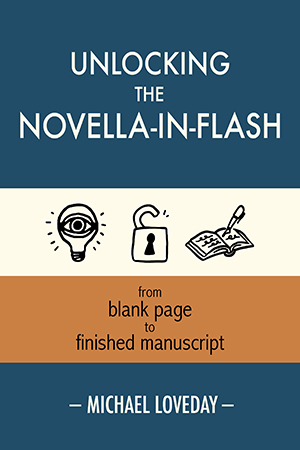 Unlocking the Novella-in-Flash: from Blank Page to Finished Manuscript is the first ever full roadmap for creating your own novella composed of flash fictions, or very short stories. Whether you've written a novella-in-flash before, or are a beginner newly experimenting, this flexible, step-by-step craft guide will support you to produce a high-quality manuscript of linked narratives.
'This is it, writers. This is all you need if you're even thinking of writing a novella-in-flash. Michael Loveday has written the destined-to-become-a-classic bible on the form.'
Kathy Fish, author of Wild Life: Collected Works.
'An extraordinarily useful resource… Highly recommended for all writers, all teachers of creative writing, and anyone interested in new forms of expression.'
David Gaffney, author of Out of the Dark and Sawn-Off Tales.
'A beautifully written and practical guide for novella-in-flash writers. Michael Loveday effortlessly unlocks the secrets of this ever-evolving form of storytelling that is coming of age in our time.'
Bambo Soyinka, Professor of Story, Bath Spa University.
'If you're a poet wanting to try to write something more substantial, or a prose fiction writer looking to branch out, this book will give you the inspiration and encouragement you need to start experimenting.'
Rishi Dastidar, author of Saffron Jack and editor of The Craft: A Guide to Making Poetry Happen in the 21st Century.
'I guarantee that this book will become a staple in the reading diet of every flash fiction writer.'
Johanna Robinson, author of Homing.
'Writers have been waiting for this book and we didn't know it… Unlocking the Novella-in-Flash is destined to join the canon of invaluable books on writing.'
Pamela Painter, author of Fabrications: New and Selected Stories.
Paperback ISBN 978-1-915247-08-7; 152mm x 229mm; 216pp
£14.99 GBP