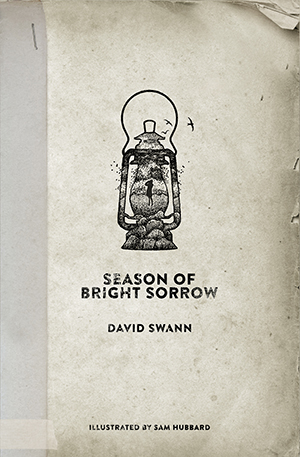 After her father is jailed for murder, a young girl is re-housed with her mother in a crumbling resort. There are terrors here: tides and quick-sands, also a strange boy who wanders the marsh. But when the girl meets an elderly beachcomber who has known heartaches of his own, she senses that her fortunes could turn like the tide. The tide that rushes in faster than a horse, bringing life – and sometimes taking it…
Illustrated by Sam Hubbard
'This collection stands out for the rhythmic storytelling and the variety the reader encounters in these small fictions – told in fragments, in lists, in long breathless sentences, in repetitions, in sharp and believable dialogue. There is great care here, and yet the stories spill from the page seamlessly… A superbly designed set of stories, from beginning to end.'
~ Michelle Elvy, Judge, 2021 Bath Novella-in-Flash Award.
'Season of Bright Sorrow is a little miracle. David Swann takes a boarding house, a boy, and a bay; a girl and her mum; a scattering of glimpses and gaps; and he gives you nothing less than the universe. There's warmth and wisdom, here. Heartbreak, profundity, and humour. And beautiful drawings, too, by Sam Hubbard. It's a short book, and it's absolutely full to the brim with love.'
~ Edward Hogan, author of The Electric (John Murray, 2020).
'Season of Bright Sorrow is by turns dark and foreboding, life affirming and hopeful. Each flash fiction is unique and haunting, and together they reveal our human urge for connection and certainty. Swann's characters possess you instantly and we cannot help but enter fully into each strange and beautiful life.'
~ Karen Stevens, author of Writing a First Novel (Palgrave, 2014).
'In a series of poetically precise and illuminating flashes, this novella explores how one girl, Lana, begins to learn how to live in a world full of loss. David Swann finds a specific language for a specific landscape, and, in doing so, connects with universal themes of grief and hope. It's beautiful. And it's funny, too.'
~ Bethan Roberts, author of My Policeman (Vintage, 2012).
'Dave Swann's portrayal of childhood brims over with wisdom, warmth and wonder. The coastal settings are so achingly desolate, the characterisations so astute, idiosyncratic and compassionate throughout. Season of Bright Sorrow feels note-perfect and yet it's full of wildness and wilderness. There is an unforgettable magic at work.'
~ Michael Loveday, author of Three Men on the Edge (V Press, 2018).
Paperback ISBN 978-1-912095-29-2; 133mm x 203mm; 122pp
£11.99 GBP