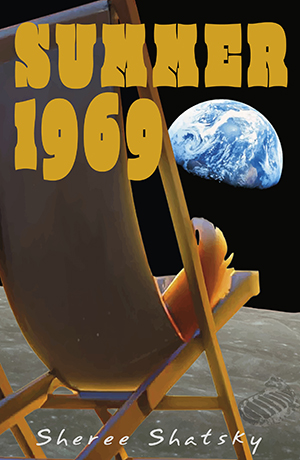 A novella that weaves in and out of a family life, and the events of the day, some dramatic (fires and space exploration), some mundane (a mother's habitual pulling at her eyelashes, a father's obsession with a cat). Slowly, the writer builds expectations around what's in store; there's NASA and the Florida beach and the moon shot and the war in Vietnam.
~ Michelle Elvy, author of the everrumble and the other side of better.
The twenty-nine interlinked stories in Sheree Shatsky's Summer 1969 locate the reader in a place and time that's both poignant and powerful. The events of that summer – the Manson murders, the first moon landing and Vietnam – are background accompaniment for the characters as they move through their daily lives: the slowly unraveling father, the spendthrift mother and a neighbor girl named Jane who's sent away to juvenile detention after torching the family home. At the heart of these stories is the narrator, the daughter on whom nothing is lost, an insightful witness to the beginnings and the ends of things. Each of these stories feels like an exquisitely detailed jewel, assembled to form this powerful crown of a novella.
~ Sarah Freligh, author of We and Sad Math
Paperback ISBN 978-1-915247-38-4; 133mm x 203mm; 58pp
£10.99 GBP
Release Date 14th June
The benefit from a 25% pre order discount, please enter the code 3X0523 at checkout. Pre orders are normally shipped a couple of days before the release date.