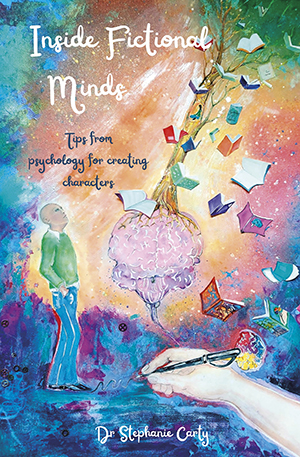 'As a psychological thriller author I found this book both educational and inspiring; such a useful resource to help writers create intriguing, authentic characters – and maybe learn something about themselves too.'
~Jackie Kabler, author of the Cora Baxter Mysteries, Am I Guilty? and The Perfect Couple.
'An invaluable guide to creating authentic characters by peeling back the layers and searching for the 'why' that lies behind all our actions. I have really enjoyed applying psychological theory to creative intuition, led by Stephanie's accessible approach to creating believable, motivated characters.'
~Sarah Steele, author of The Missing Pieces of Nancy Moon and The Schoolteacher of Saint-Michel
'What are the subliminal influences that really drive a character? How can these be revealed in a way that pulls the reader in and keeps the pages turning? In Inside Fictional Minds Dr Stephanie Carty offers an insightful, easy-to-read guide for all writers seeking to create believable characters who keep us gripped by their choices.'
~Jane Bailey, author of Sorry Isn't Good Enough and Larksong
'Inside Fictional Minds is an accessible and invaluable tool for any writer of fiction wanting to get underneath their character's skin. Packed with psychological insights into motive, reason and desire, it'll have you unravelling the intricacies of being human in new and exciting ways.'
~Hannah Persaud, award-winning short story writer and author of The Codes of Love
'A truly exceptional book, a classic in the making. It offers unique insights into human psychology that are easy to apply to fiction writing, but that also taught me a lot about myself. Inside Fictional Minds is a journey of discovery.'
~Sophie van Llewyn, author of Bottled Goods, longlisted for the Women's Prize for Fiction.
Paperback ISBN 978-1-912095-45-2; 133mm x 203mm; 132pp
£12.99 GBP