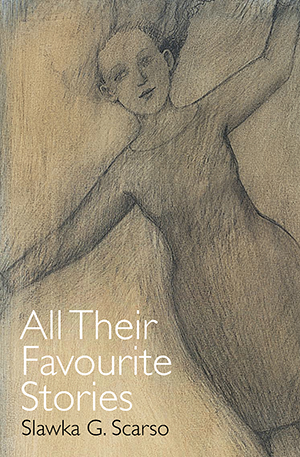 All Their Favourite Stories is a novella that sets up an ensemble cast of characters and invites us into their world(s). This is a place of great empathy and energy – we are taken to The Flowered Hill, a rest home for the elderly where we gain an understanding of the lives of the residents and carers, both present and past. And all is never as it may seem – which we are shown from the very beginning, when the first story carries the weight of history, and the meaning in (mis)pronunciation of a name, and (mis)communication across the space between two people. The writer applies varying voices and styles across these flashes. We watch characters as they encounter each other, and as they sift through memories.
~ Michelle Elvy, author of the everrumble and the other side of better.
This ultimately uplifting novella-in-flash, whose predominant narrator is Maria, a Polish immigrant, explores one indefatigable woman's struggles to find connection and meaning through her work in a UK residential home. There is much to admire in Slawka's authentic voice, and what really shines through is Maria's determination to listen to, cherish and give voice to the older people she cares for, despite the difficulties she experiences with management and her home life. Never trite or sentimental, the tender stories and human connections revealed through these pages will warm even the most cynical of hearts.
~ Michelle Christophorou, author of Kipris.
The tiny portraits of the staff and residents of The Flowered Hill are pitch perfect throughout Slawka G. Scarso's, All Their Favourite Stories. You'll know many of the people in this beautifully paced novella-in-flash, and will recognise those we like, love and loathe, all eking out what remains of their lives and stories. Each of the thirty-three closely observed chapters illuminates seemingly mundane incidents, crafting a universal story that tugs on both emotions and memories.
~ El Rhodes, carer for elderly parent, and award-winning writer and facilitator.
Paperback ISBN 978-1-915247-20-9; 133mm x 203mm; 102pp
£10.99 GBP