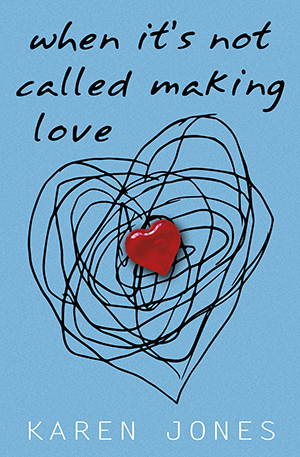 Reader, do not be fooled. The brevity of this novella-in-flash belies the breadth and scope of its subject matter. In assured, clear-eyed prose, Karen Jones quickly immerses us into the world of her loyal, smart, brave protagonist. Bernadette is a child who becomes a woman, a bully who becomes the bullied, forever seeking the birthright we all share, that of simple tenderness and understanding. When It's Not Called Making Love is a breathless, breathtaking, unflinching coming-of-age debut you will not want to miss.
~Kathy Fish, Author of Wild Life: Collected Works
Karen Jones artfully captures the dangers and hurts of life for suburban adolescent Bernadette, who suffers a painful awakening as she negotiates the quagmire of sex and the shifting rules of friendship. Frank and frustrated, Bernadette's voice is breathless and vibrant, and the reader can only act as witness and wish her well on her journey. Poignant and full of truth, this is gorgeous writing.
~Nuala O'Connor, author of Joyride to Jupiter
I just loved When it's Not Called Making Love. With an authentic voice, Karen Jones tells the story of the troubled Bernadette as she grows from displaced child to young adult. The stories are at times heart-breaking, at times hilarious, but they are always utterly engrossing. An exemplary novella-in-flash.
~Diane Simmons, author of Finding a Way and An Inheritance
Full of pent up desire and intense observation, this book grips you close, and pulls you hard into the darkness. This is succinct, sharp writing about loneliness, with raw pain and love at its core.
~Elisabeth Ingram Wallace, winner of The Mogford Prize and Writing the Future.
Paperback, ISBN 978-1-912095-16-2, 133mm x 203mm, 50 pages.
£8.49 GBP
Buy Now